2023.07.27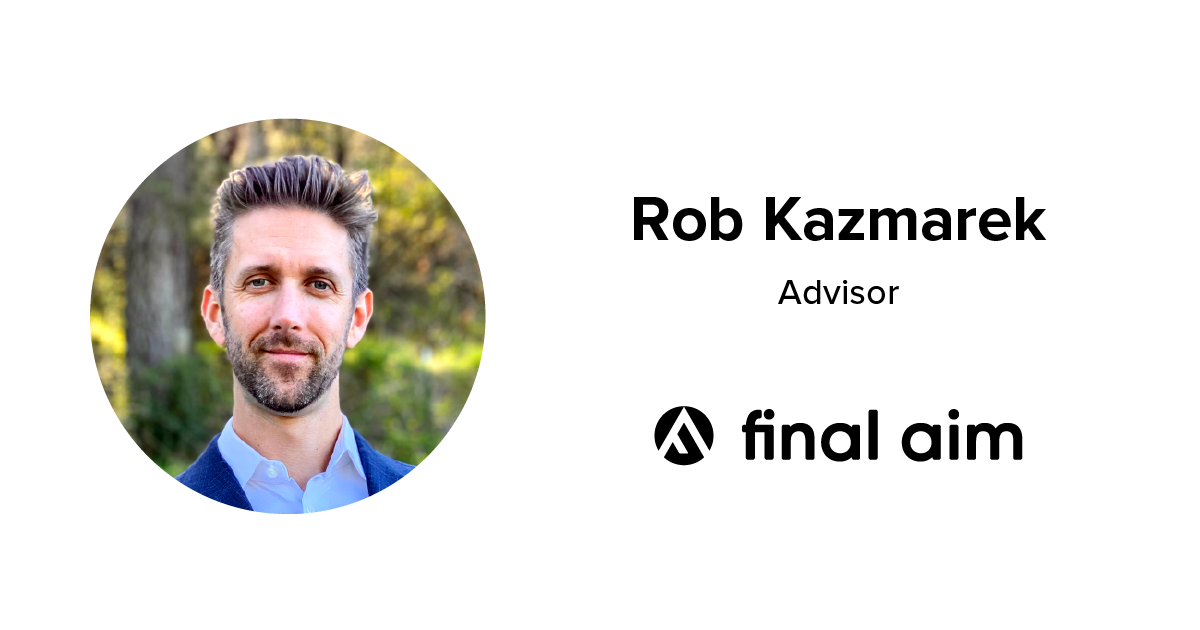 Delaware, US, July 27th, 2023 – Final Aim, Inc., the leading smart contracts platform for post-signing contract management in design and manufacturing, has appointed finance and operations executive Rob Kazmarek as an Advisor.
Rob first met co-founders Masafumi Asakura and Yasuhide Yokoi through Berkeley SkyDeck, the prestigious university accelerator the founders were accepted into in 2022, and at which Rob is an advisor and member of the selection committee.
Prior to his involvement with Berkeley SkyDeck, Rob led trading and analytics for Bay Area-based Kingsford Capital and spearheaded creation of multiple new revenue-generating business models for international hospitality chain Dusit Thani. He began his career at Adobe, building up to a regional operations role that saw him at various times oversee responsibility for San Francisco, the east coast of the US, LATAM, and the entirety of the Japan and Asia-Pacific region.
Rob has lived overseas for nearly eight years, including three in Tokyo, Japan. He received his MBA from the UC Berkeley Haas School of Business, specializing in finance and general management.
LinkedIn: https://www.linkedin.com/in/rob-kazmarek/
With Rob's proven global track record especially in the US and Japan, Final Aim is honored to welcome him as an Advisor and benefit from his experience and accomplishment.
"I was instantly drawn to Masa-san and Yasu-san," said Rob. "Not only do they have remarkable Tier-1 customer traction at such an early stage – SONY and Panasonic as just a few – but their vision of an integrated legal tech solution is compelling. They both bring that 'it' factor that you want to bet on and be a part of," commented Rob.
Masafumi Asakura, Co-Founder and CEO of Final Aim, commented on the appointment, "Rob was our Key Advisor during Berkeley SkyDeck (Batch15 IPP), advising Final Aim on all aspects of management and business. He is a wonderful colleague who supported Final Aim from the beginning when we were growing our US experience. Rob has been part of the team since Berkeley SkyDeck, as if we were in the same boat, playing an integral part. We are thrilled to have Rob join us on this global journey even after Berkeley SkyDeck, continuing to advise all around Final Aim, such as business, finance, marketing, and hiring. His ability to help us focus on accelerating our path to scalable success has been invaluable."
Also, Yasuhide Yokoi, Co-Founder and CDO of Final Aim, commented, "I am delighted to welcome Rob, such an outstanding expert in startup development. He has been our Key Advisor in the Berkeley SkyDeck program and, ever since, has been extremely helpful in many aspects where startups struggle. I do not doubt that his significant experience would further accelerate our moonshot."
About Final Aim
Final Aim has been driving the global adoption of blockchain and smart contracts technologies in industrial design and manufacturing. In November 2021, the company announced the beta version of its blockchain platform, "Final Chain."
In April 2022, they established a headquarters in the United States. In September of the same year, Final Aim was accepted into "Berkeley SkyDeck," a world-renowned Silicon Valley startup accelerator. In February 2023, they were chosen as "The Most Likely to Become the Next Unicorn" within the program. In June, the company won the "Japan-US Innovation Awards – Innovation Showcase," a co-program by the Japan Society of Northern California and the Stanford University US-Asia Technology Management Center.
Company Name: Final Aim, Inc.
Location: Headquarters – Delaware, US / Subsidiary – Tokyo, Japan
Founders: Masafumi Asakura, Chief Executive Officer / Yasuhide Yokoi, Chief Design Officer
Business Description: Drive the adoption of blockchain and smart contracts technologies for design and manufacturing
Website: https://final-aim.com
Contact: contact@final-aim.com