2022.09.15
The company gets selected for Startup City Acceleration Program by Japan External Trade Organization (JETRO)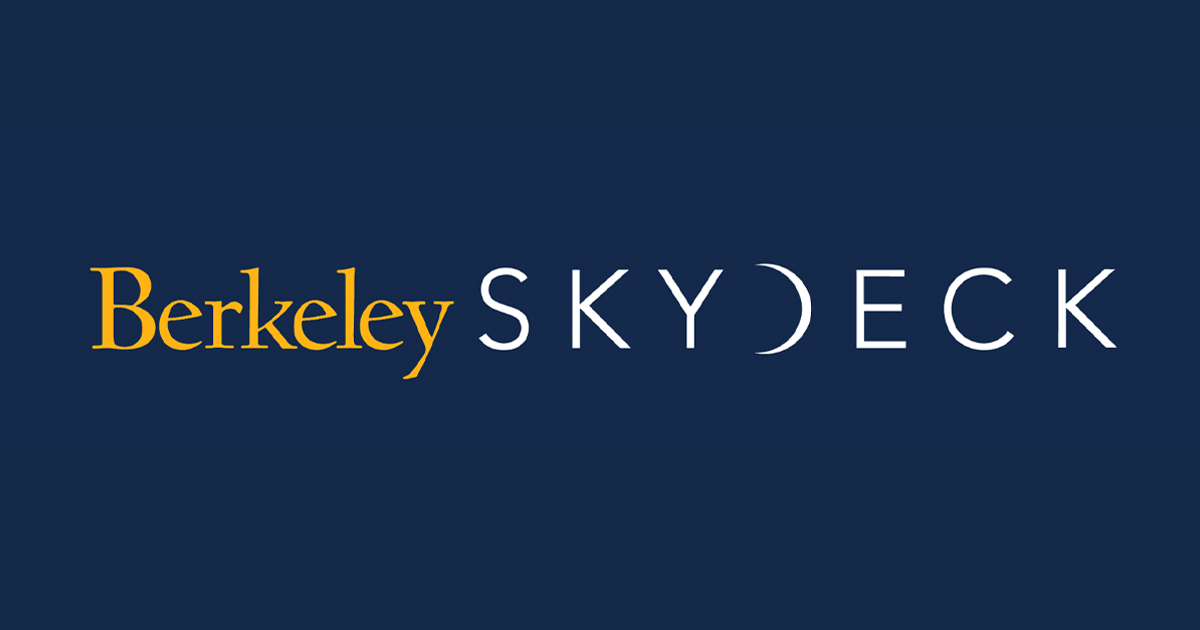 Berkeley, US, September 15th, 2022 – Final Aim, Inc. (Delaware, US, CEO Masafumi Asakura, and CDO Yasuhide Yokoi) is proud to announce that the company has been accepted into Berkeley SkyDeck Batch 15 IPP, one of the world-renowned Silicon Valley startup accelerators.
In this program, the company has been selected as a deep tech cohort in the Startup City Acceleration Program run by the Japan External Trade Organization (JETRO), together with the Cabinet Office and the Ministry of Economy, Trade and Industry (METI) of Japan.
Final Aim has been driving the adoption of Web3 technologies globally in the design and digital manufacturing industries. In November 2021, the company released its Web3 platform "Final Chain" private beta, the industry-first solution with decentralized and distributed technologies such as blockchain, smart contracts, digital tokens, and IPFS, bringing full ownership and authenticity to designers and manufacturers in design planning, development, and production,
And in April 2022, the company established a corporation as a headquarter in the United States.
Since then, with its Web3 platform, the company has collaborated with industry leaders: Panasonic, including the USA and Japan design division; Autodesk, a global leader in 3D design, engineering, and entertainment software; Ultimaker, a Netherland-based global leader in the professional 3D printing industry; EYEMETRICS JAPAN, the world's first eyewear brand originated in Switzerland that personalizes the design by 3D scanning each user's face.
And in August 2022, Final Aim announced a partnership with Sony Design Consulting for the IC card-type hardware wallet, which the Sony Computer Science Laboratories has been developing for all kinds of use cases. The technology includes support by mutual authentication/encrypted communication cultivated over many years by applying Sony's expertise in contactless IC cards.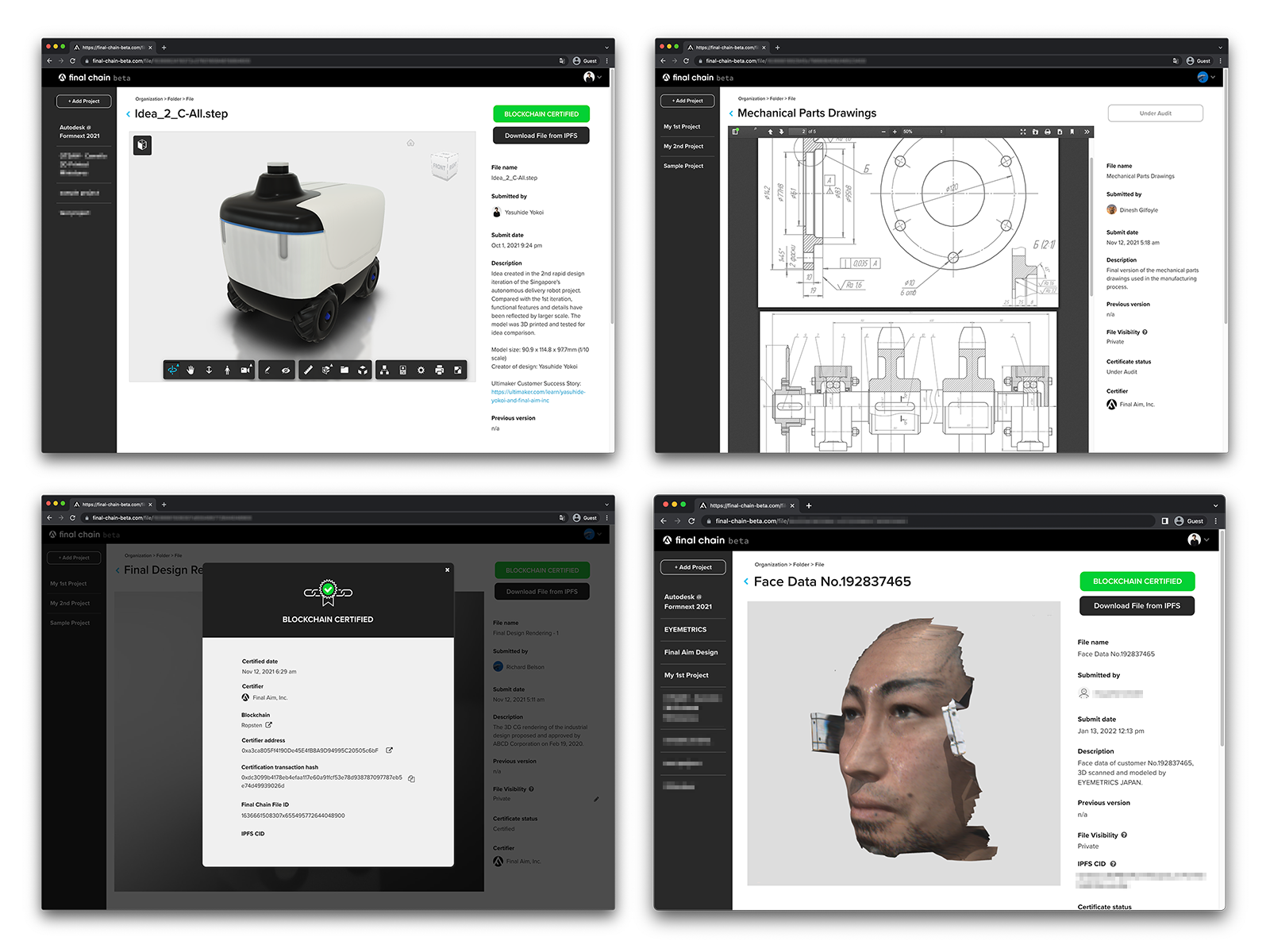 About Berkeley SkyDeck

Berkeley SkyDeck is one of the world-renowned startup accelerators at the University of California, Berkeley.
The university ranks among the world's top universities, including 4th in the "US News & World Report." Berkeley has often been cited as one of the universities that have produced most entrepreneurs, such as Apple co-founder Steve Wozniak, former Google CEO Eric Schmidt, and founder of Softbank Masayoshi Son.
Named in Forbes as a top-five US university accelerator, SkyDeck combines hands-on mentorship with the vast resources of its research university. SkyDeck is the only accelerator that provides funding for its startups via a public-private partnership, providing returns directly back to UC Berkeley from the Berkeley SkyDeck Fund, a dedicated investment fund supported by top institutional VCs like Sequoia and Mayfield.
SkyDeck startups have raised more than $1.47 billion in aggregate. Participating startups have access to SkyDeck's 360 advisors, 70 industry partners, and a network of more than 510,000 UC Berkeley alumni.
https://skydeck.berkeley.edu/
Furthermore, in the field of blockchain, which Final Aim defines as our core technologies, by industrial leading media "CoinDesk," the university has ranked 3rd in the world and the top in the US.
"The Top Universities for Blockchain by CoinDesk 2021"
https://www.coindesk.com/learn/2021/10/04/the-top-universities-for-blockchain-by-coindesk-2021/
This accelerator will hold the program online and offline for four months and host UC Berkeley students as internships. At the end of the program, the startups will present at SkyDeck's Demo Day, where over 100 investors and venture capitalists will attend.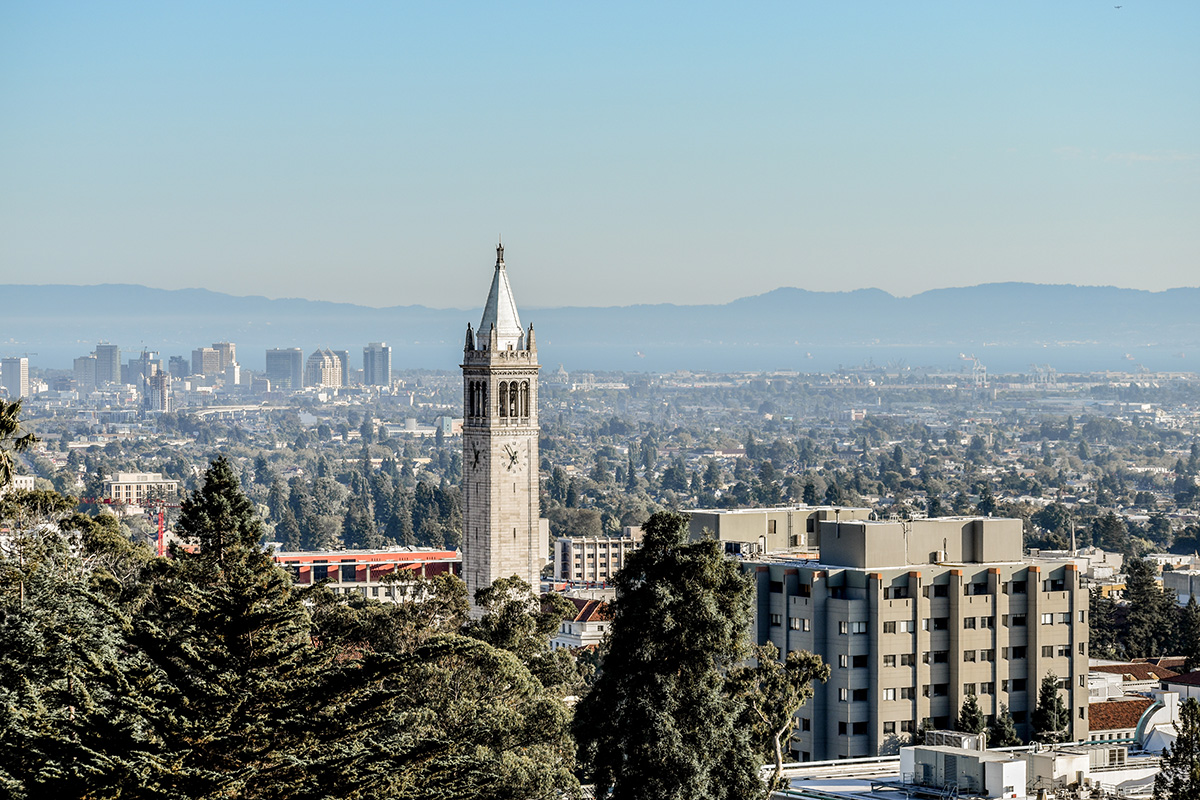 UC Berkeley campus
About JETRO Startup City Acceleration Program

JETRO, or the Japan External Trade Organization, is a government-related organization that works with the Cabinet Office and the Ministry of Economy, Trade and Industry (METI) of Japan to develop a startup ecosystem and promote global business development.
The organization cooperates with top global accelerators to support each startup's needs, maximizing possibilities and opportunities such as international level of top mentor networks and matching global venture capitals and business partners.
JETRO has selected Final Aim in the deep tech cohort to push the startup's financing, business expansion, and partner alliances to the global level.
Through this opportunity, Final Aim will further strengthen its Web3 business and technologies in the design and digital manufacturing domain by acquiring know-how, networks, and industrial knowledge.
UPDATE (March 1st, 2023) : Final Aim receives "Most Likely to Become the Next Unicorn" at Berkeley SkyDeck Batch 15 IPP Global Innovation Showcase!
After months of the intensive program, the accepted startups participated in the "Global Innovation Showcase" and pitched in front of 140 people, including prominent SkyDeck advisors, mentors, and investors. At the end of the showcase voting, Final Aim was elected as the startup that could become the next "Unicorn."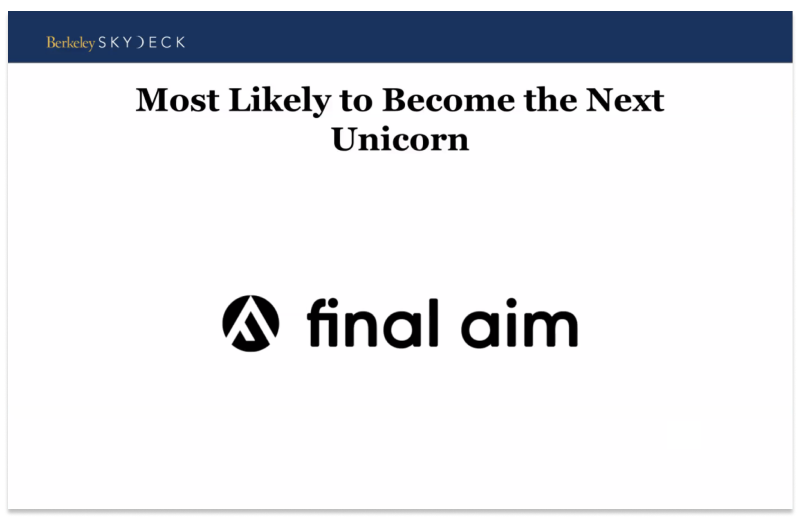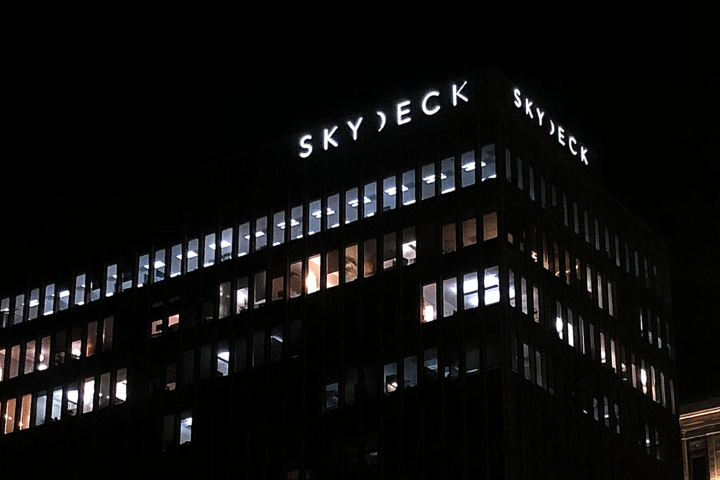 About Final Aim
Company Name: Final Aim, Inc.
Location: US, Japan
Founders: Masafumi Asakura, Chief Executive Officer / Yasuhide Yokoi, Chief Design Officer
Business Description: Drive the adoption of Web3 technologies for industrial design
Website: https://final-aim.com
Contact: contact@final-aim.com