2020.06.16
Tokyo, Japan, June 16th, 2020 – Final Aim, Inc. (Bunkyo-ku, Tokyo, CEO Masafumi Asakura, and CDO Yasuhide Yokoi), is proud to announce that the company has partnered with BionicM (Bunkyo-ku, Tokyo, CEO Sun Xiaojun).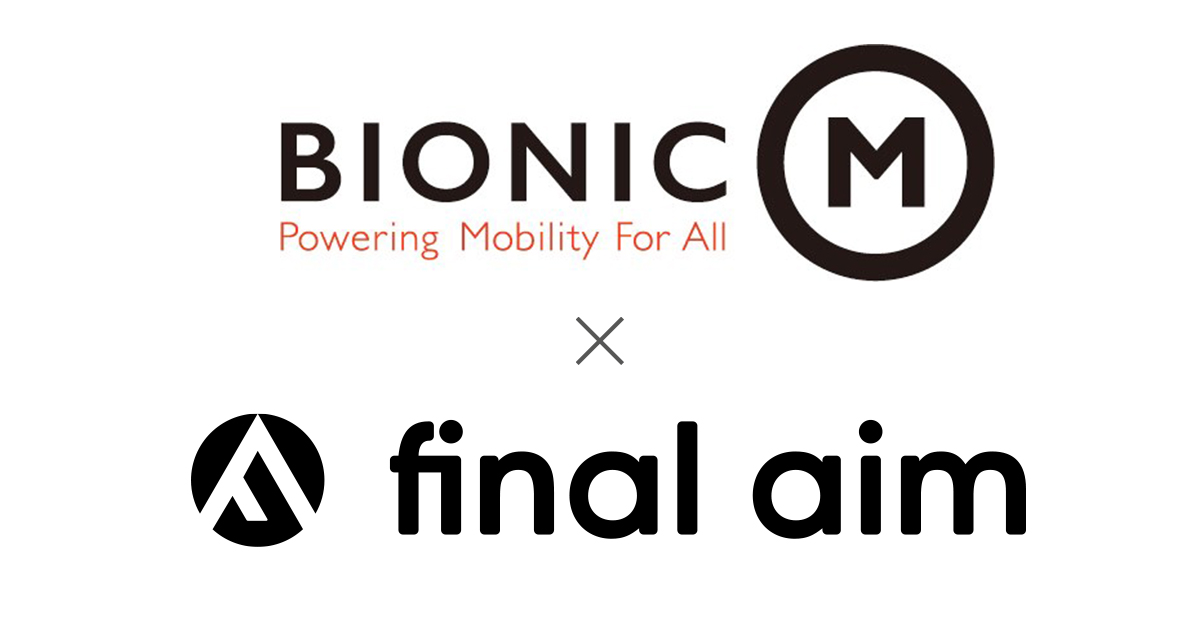 Our company mission is to support a zero-to-one step with technology for new business category creation and job opportunity generation following to it.
Since our foundation in December 2019, our global challenge has expanded from Japan to Singapore, Indonesia and to Africa in autonomous mobilities, robotics and digital manufacturing where we enable a zero-to-one for startups, new business development departments in large corporations and research labs in universities.
BionicM has been bringing new innovation to mobility by using technology that blends robotic technology with the human body.
As a startup from the University of Tokyo, the company has been applying cutting-edge technology based on robotics engineering research to solve the problems of conventional prosthetic legs and create small, lightweight, high-performance prosthetic legs that realize natural movement.
Furthermore, BionicM aims not only to develop artificial legs, but also to create technologies and devices that bring power to the mobility of healthy people.
BionicM has selected Final Aim as a business alliance partner from the viewpoint of global business development and marketing with a view to designing, prototyping, and mass production in the manufacturing industry from the perspective of global expansion.
The partnership aims to develop the BionicM's business growth stage to a global scale, by blending Final Aim's proven hands-on capability of zero-to-one startup support in the hardware design and manufacturing industry.
– Comments –
Sun Xiaojun, Founder & CEO of BionicM Inc.
Since starting our business in 2018, we have been engaged in research and development aiming at the practical application of powered prostheses.
We are confident that this alliance will further strengthen our business foundation and global expansion as we move into the mass production and domestic and overseas sales phases. In order to support Zero to one, we would like to further accelerate our business in order to achieve the mission of "Powering Mobility for All" by collaborating with Final Aim, which has a global track record and knowledge in the hardware field.
Masafumi Asakura, Co-founder and Chief Executive Officer of Final Aim, Inc.
I'm proud of working with BionicM. In addition to its approach to solving social issues by powered prosthetic legs, we were drawn to the high aspirations and attractive personality of CEO Sun, and we would like to support them globally.
I am convinced that we can expect synergies between the business development that combines design, hardware, and software and Final Aim's capability from the medium- to long-term perspective.
Yasuhide Yokoi, Co-founder and Chief Design Officer of Final Aim, Inc.
I am fascinated and inspired by the challenge that BionicM is solving, its leading-edge technology, and above all, the passion towards the vision.
With our industrial know-how and mindset, Final Aim will extend the utmost cooperation in realizing the vision and business goal to a global scale.
About BionicM
BionicM has been conducting research on innovative technologies since 2015 at the University of Tokyo's Information Systems Engineering Laboratory (JSK) under the guidance of Professor Inaba and utilizing the world's most advanced robotics research.
In 2016, we were adopted by the Japan Science and Technology Agency as part of "Program for Creating STart-ups from Advanced Research and Technology" (START), and in 2018, the company was established as a joint-stock company.
With the support of the University of Tokyo, we have established an office at the Entrepreneurship Laboratory of the University of Tokyo, which is an incubation facility, and are advancing research and development with the aim of delivering products to the market.
http://www.bionicm.com/en/top/
About Final Aim, Inc.
Company Name: Final Aim, Inc.
Location: Bunkyo-ku, Tokyo
Business Description: Zero-to-one support with design and technology
URL: https://final-aim.com
Founders: Masafumi Asakura, Chief Executive Officer / Yasuhide Yokoi, Chief Design Officer
Partners: OTSAW, Yasunli, BionicM
Contact E-mail: m-asakura@final-aim.com