2023.06.22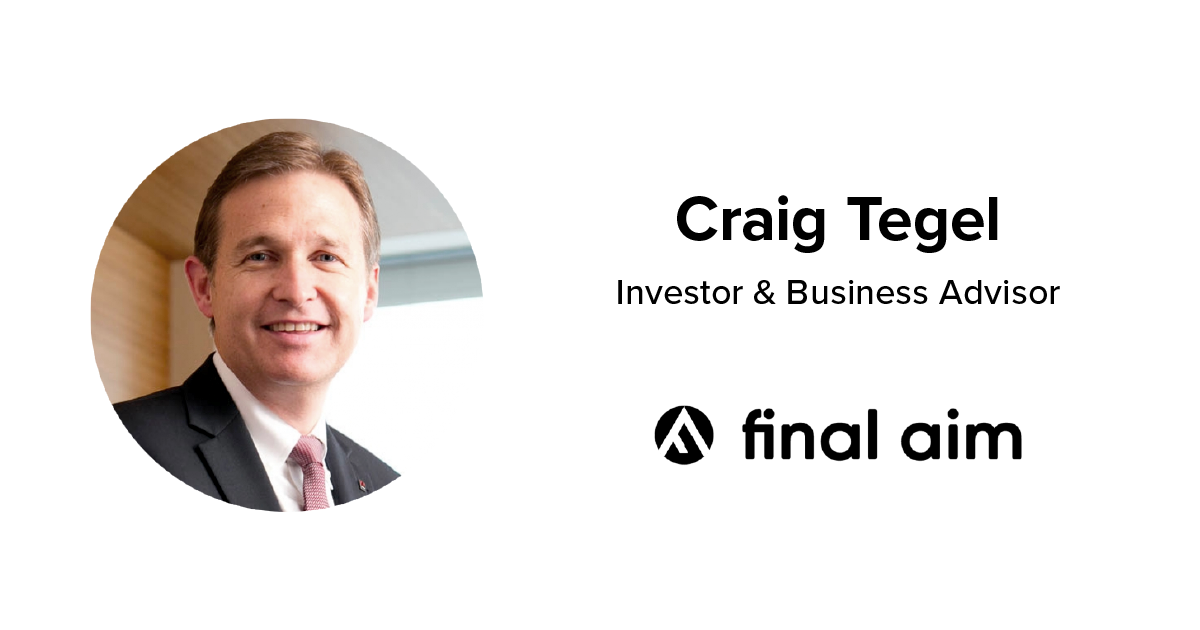 Delaware, US, June 22nd, 2023 – Final Aim, Inc. (Delaware, US, CEO Masafumi Asakura, and CDO Yasuhide Yokoi) is proud to announce the company has raised an angel investment from Craig Tegel, a former President, Representative, and Managing Director of Adobe in Japan, APAC, and Northern Europe. The company has also announced the appointment of Craig Tegel as Final Aim's Business Advisor.
With over 30+ years of international professional experience, Craig Tegel has a strong track record in business, marketing and corporate development. His reputation as a strong leader saw him playing key roles in leading and scaling Adobe in Japan, APAC, and Northern Europe as a President, Representative, and Managing Director.
Now the Director of People Make the Difference, Craig uses his wealth of experience to offer executive coaching, team performance management, and leadership coaching to help others establish and build upon their own leadership skills to create high-performing teams.
Final Aim is excited to welcome Craig to the team and to benefit from his experience and leadership.
"I am excited to have the opportunity to be an angel investor in Final Aim. I was impressed with the leadership of the company and the vision that Masa and Yasu have for the solution and the way in which it can streamline complex contract workflows and leverages the latest blockchain technology." said Craig.
Masafumi Asakura, Co-Founder and CEO of Final Aim, expressed his excitement about the angel investment and the advisor appointment, stating that, "Craig's global perspective on the design industry and his business advice based on his experience as an executive at Adobe are very encouraging for Final Aim's future growth in the world. I am confident that his joining Final Aim is a big step forward for the success of Final Aim."
Also, Yasuhide Yokoi, Co-Founder and CDO of Final Aim, said, "Craig is a dynamic and accomplished leader with a track record of expanding creative tools and software like Adobe to industrial enterprises for many years and regions. With his experience, I believe he will be instrumental in helping Final Aim deliver the world's leading smart contracts platform to our customers."
With this angel investment and advisor appointment, Final Aim will further accelerate its business development and blockchain technology adoption in the design and manufacturing industries worldwide.
About Final Aim
Final Aim has been driving the global adoption of blockchain and smart contracts technologies in industrial design and manufacturing. In November 2021, the company announced the beta version of its blockchain platform, "Final Chain."
In April 2022, they established a headquarters in the United States. In September of the same year, Final Aim was accepted into "Berkeley SkyDeck," a world-renowned Silicon Valley startup accelerator. In February 2023, they were chosen as "The Most Likely to Become the Next Unicorn" within the program. In June, the company won the "Japan-US Innovation Awards – Innovation Showcase," a co-program by the Japan Society of Northern California and the Stanford University US-Asia Technology Management Center.
Company Name: Final Aim, Inc.
Location: Headquarters – Delaware, US / Subsidiary – Tokyo, Japan
Founders: Masafumi Asakura, Chief Executive Officer / Yasuhide Yokoi, Chief Design Officer
Business Description: Drive the adoption of blockchain and smart contracts technologies for design and manufacturing
Website: https://final-aim.com
Contact: contact@final-aim.com