Final Aim Appoints Shin'ichiro Matsuo as a Technology Advisor – Delaware, US
2023.07.12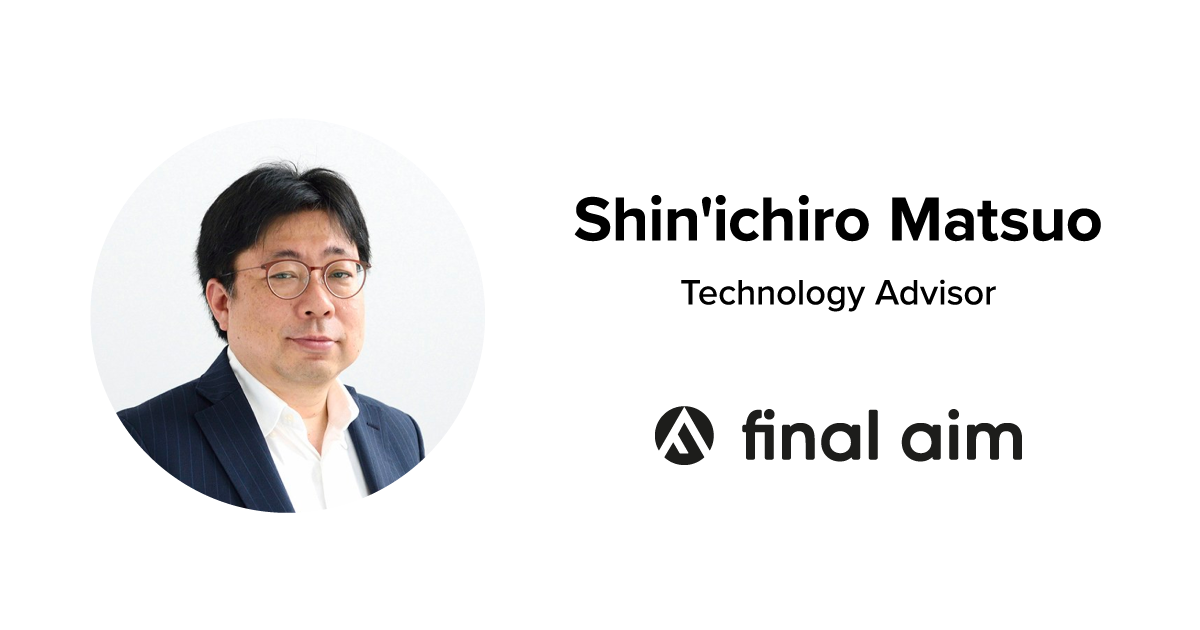 Delaware, US, July 12th, 2023 – Final Aim, Inc. (Delaware, US, CEO Masafumi Asakura, and CDO Yasuhide Yokoi) proudly announced the appointment of Shin'ichiro Matsuo as the company's Technology Advisor.
As an expert in cryptography, information security, and international standardization, Shin'ichiro Matsuo will oversee the company's technology.
---
Biography of Shin'ichiro Matsuo
Summary
– Aspects of specialties: Research scientist in cryptography, its applications, and privacy; Expert in international standardization.
– A research professor of computer science at Georgetown University and Director of Blockchain research at CyberSMART Research Canter, where he leads multi-disciplinary research among technology, economy, law, and regulation.
– Deeply involved in blockchain academic research: Co-founder of "BSafe.network." building an international neutral academic research test network; Research on security analysis on blockchain technology; Co-chair of Blockchain Governance Initiative Network (BGIN); Committed to ISO TC307 standardization as a committee member and liaison between ISO/IEC JTC1 SC27 and ISO TC307. A member of OECD's Blockchain Expert Policy Advisory Board (BEPAB).
– Designed cryptographic protocols from fundamental protocols to application protocols: Key management protocols suitable for smartphone and RFID tags; Digital cash schemes; Cryptocurrency and blockchain technology; Digital time-stamping schemes based on PKI and hash-chain; Digital voting schemes; Privacy-enhancing technologies including anonymous digital signature and anonymous entity authentication protocols.
– Expert in international standardization of cryptography and information security: Head of Japanese national body of ISO/IEC SC27/WG2; Editor of ISO/IEC 29128 (Verification of Cryptographic Protocols), ISO/IEC 20009-2 (Anonymous Entity Authentication), ISO/IEC 19592 (Secret Sharing Scheme) and Standing Document 4 (Analysis and status of cryptographic algorithms); Editor of ISO TR23576 (Security of Digital Assets Custodians); Member of Japanese Governmental committees for cryptographic technologies; Founder of an international consortium on security evaluation of cryptographic protocols, "CELLOS."; Proposer of new evaluation criteria of hash functions suitable for real information system and a common evaluation platform for SHA-3 candidates, conducting an evaluation for 14 finalists.
Work Experience – Highlights
– Blockchain Governance Initiative Network (BGIN), Acting Co-chair
– Virginia Tech, Research Professor
– Georgetown University, Research Professor
– NTT Research Inc., Head of Blockchain Research
– Keio University, Project professor
– MIT Media Lab, Research Affiliate – Director's Liaison for Financial Cryptography
– University of Tokyo, Research Fellow
– ISO/IEC JTC1 SC27/WG2, Head of Japanese National Committee
– National Institute of Information and Communications Technology (NICT), Director of Security Architecture Laboratory
---
About Final Aim
Final Aim has been driving the global adoption of blockchain and smart contracts technologies in industrial design and manufacturing. In November 2021, the company announced the beta version of its blockchain platform, "Final Chain."
In April 2022, they established a headquarters in the United States. In September of the same year, Final Aim was accepted into "Berkeley SkyDeck," a world-renowned Silicon Valley startup accelerator. In February 2023, they were chosen as "The Most Likely to Become the Next Unicorn" within the program. In June, the company won the "Japan-US Innovation Awards – Innovation Showcase," a co-program by the Japan Society of Northern California and the Stanford University US-Asia Technology Management Center.
Company Name: Final Aim, Inc.
Location: Headquarters – Delaware, US / Subsidiary – Tokyo, Japan
Founders: Masafumi Asakura, Chief Executive Officer / Yasuhide Yokoi, Chief Design Officer
Business Description: Drive the adoption of blockchain and smart contracts technologies for design and manufacturing
Website: https://final-aim.com
Contact: contact@final-aim.com