Final Aim Appoints Jeep Kline as a Board of Advisors – Delaware, US
2023.07.03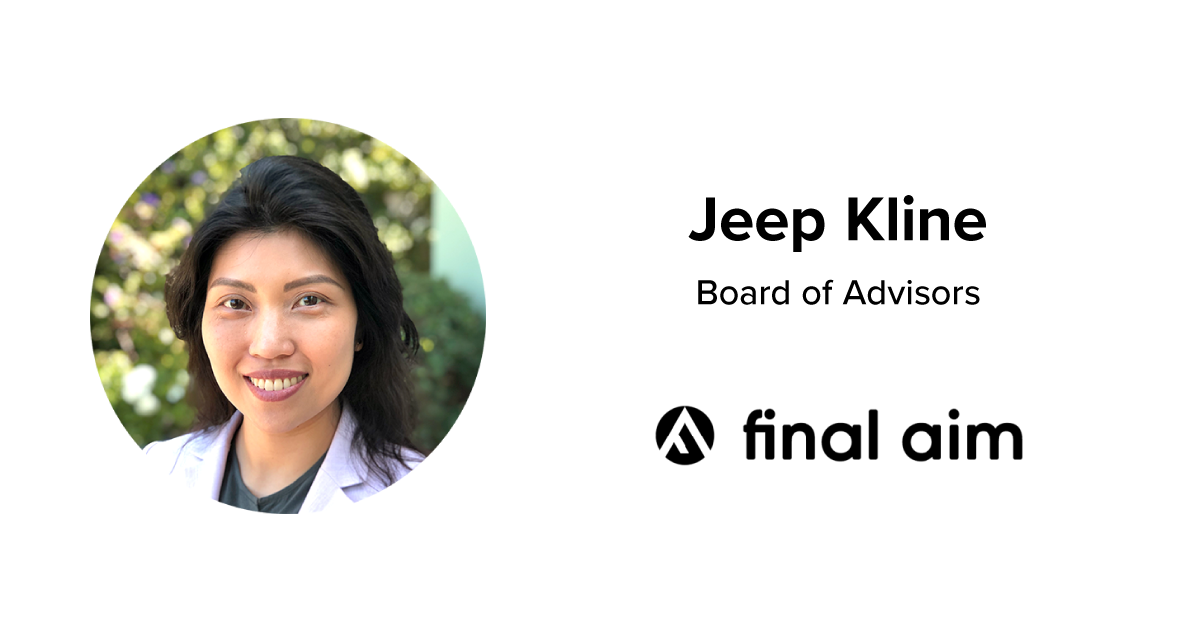 Delaware, US, July 3rd, 2023 – Final Aim, Inc. (Delaware, US, CEO Masafumi Asakura, and CDO Yasuhide Yokoi) proudly announced the appointment of Jeep Kline as the company's Board of Advisors. Jeep Kline is a seasoned venture capitalist, a senior executive at Intel and pre-IPO technology companies, a World Bank economist, and a faculty at UC Berkeley with more than 20 years of experience in the high-tech industry.
LinkedIn: https://www.linkedin.com/in/jeepkline/
As a venture investor, Ms. Kline co-founded a venture capital fund investing in early-stage technology companies in Latin America, where she invested in notable impact-minded companies. She also served as a partner at a venture fund investing in early-stage high-growth companies across the US and Canada. Recently, she founded
SeaSky Lab an organization that brings knowledge and resources for tech entrepreneurs from Silicon Valley to Asia.
As an operating executive, Ms. Kline was the President of AHEAD Medicine – a life science company using machine learning for cell analysis – holding six global IPs. Prior to AHEAD Medicine, she was a senior executive at Intel Corp., where she pioneered, launched, and scaled the company's first Android-based tablet device globally.
Ms. Kline was also an economist at The World Bank Group, where she supported Ministries of Finance in emerging markets to implement technology development projects in South America, Africa, Asia, and Eastern Europe. Ms. Kline is one of the first Thai women selected to lecture a popular MBA course Impact Venture Capital Investing – Sustainable & Impact Finance Curriculum – at the Haas School of Business, UC Berkeley. She also serves Berkeley Skydeck, a top accelerator program, as an investor and Global Ambassador to 48 countries in the Asia-Pacific region.
Her board work includes AHEAD Medicine (biotech), The Circulate Initiative by Circulate Capital (climate tech), Dietz Co. (health tech), and Intel Alumni Network (global tech executives). She is also an advisor to selected founders/CEOs at The Alchemist Accelerator and UCSF Health Hub Incubation in the San Francisco Bay Area.
Her multi-industry career paths are threaded together in one big theme: global impact. With this strong ambition and proven track record worldwide, Final Aim is excited to welcome Jeep to the Board of Advisors and to benefit from her experience and accomplishment.
"It's rare to find a company that deploys technologies to create a large-scale impact on manufacturing and design. It's even rarer to find two successful serial entrepreneurs from Japan who understand VC and impact entrepreneurship at a global scale. The combination of technology, business execution, and the founding team makes Final Aim a once-in-a-generation company from Asia." said Jeep.
Masafumi Asakura, Co-Founder and CEO of Final Aim commented on the appointment that, "I am convinced that Jeep's experience with the World Bank, Intel, venture capital, and her network in USA and Asia will help Final Aim grow to the next stage of its development. She is also a Professional Faculty of UC Berkeley Haas and I have learned a lot from her. I am honored to have this great opportunity to work with her."
Also, Yasuhide Yokoi, Co-Founder and CDO of Final Aim stated, "Jeep has been fully supportive since our acceptance into Berkeley SkyDeck, and I am excited that she will be joining our moonshot as a Board of Advisors. Jeep's incredible experience, especially in the US, Asia, and worldwide will be vital as we continue our ambitious plans to grow and develop blockchain solutions for our industry clients."
About Final Aim
Final Aim has been driving the global adoption of blockchain and smart contracts technologies in industrial design and manufacturing. In November 2021, the company announced the beta version of its blockchain platform, "Final Chain."
In April 2022, they established a headquarters in the United States. In September of the same year, Final Aim was accepted into "Berkeley SkyDeck," a world-renowned Silicon Valley startup accelerator. In February 2023, they were chosen as "The Most Likely to Become the Next Unicorn" within the program. In June, the company won the "Japan-US Innovation Awards – Innovation Showcase," a co-program by the Japan Society of Northern California and the Stanford University US-Asia Technology Management Center.
Company Name: Final Aim, Inc.
Location: Headquarters – Delaware, US / Subsidiary – Tokyo, Japan
Founders: Masafumi Asakura, Chief Executive Officer / Yasuhide Yokoi, Chief Design Officer
Business Description: Drive the adoption of blockchain and smart contracts technologies for design and manufacturing
Website: https://final-aim.com
Contact: contact@final-aim.com