Final Aim Filed the Second Patent Application for Smart Contract in Startups and New Business Developments
2020.05.21
Integrating Machine Learning and Blockchain into Final Aim Platform for Valuation and Scoring Management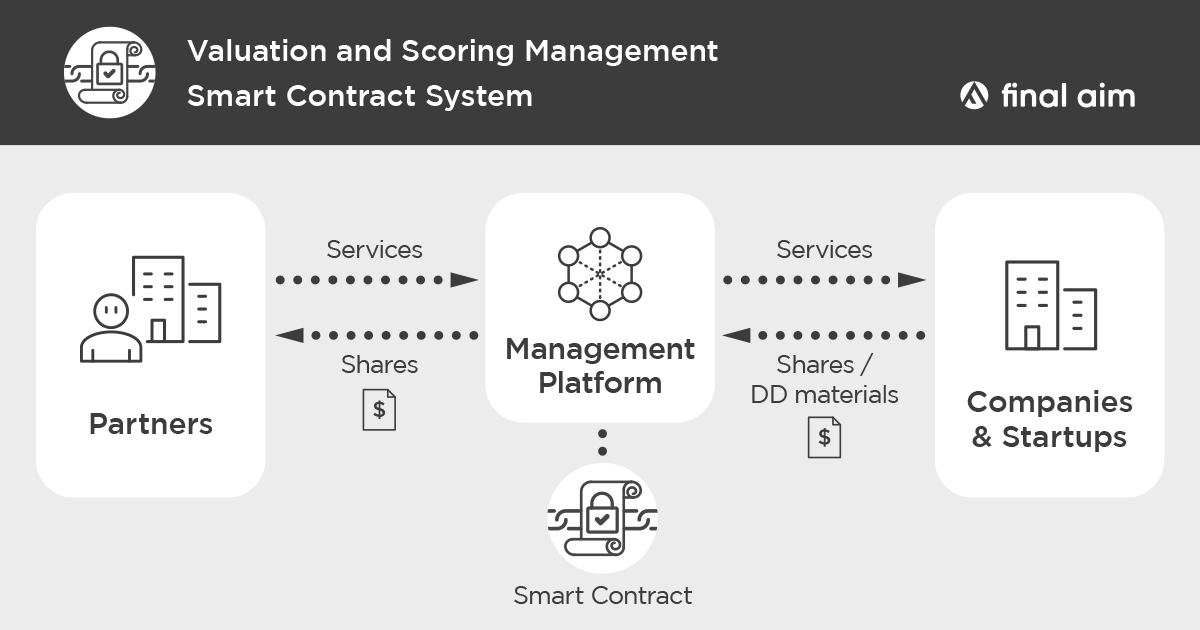 Tokyo Japan, May 21, 2020 – Final Aim Inc., Bunkyo-ku, Tokyo, CEO Masafumi Asakura and CDO Yasuhide Yokoi, proudly announce that we applied to our second patent (No. 2020-086365) on May 16, 2020. This is to integrate machine leaning and blockchain into our platform in the frame of Smart contracts.
Our company mission is to support a zero-to-one step with technology for new business category creation and job opportunity generation following to it.
Since our foundation in December 2019, our global challenge has expanded from Japan to Singapore, Indonesia and to Africa in autonomous mobilities, robotics and digital manufacturing where we enable a zero-to-one for startups, new business development departments in large corporations and research labs in universities.
In Singapore, for instance, we inked the partnership with OTSAW Digital PTE LTD, a self-driving mobility startup, and in Indonesia, PT. Yasunli Abadi Utama Plastik., with 40 years of expertise, more than 5,000 employees and 6 factories, became one of our great business partners.
Through our journey of zero-to-one creation for startups and new business developments in various countries, we found that the major growth blocker sits in the shortage of cash for necessary settlements in an early to expansion phase of the business.
We believe that numerical value of their shares can be scored by machine learning and be secured by a Smart contract framework, and that this will enable them to set settlements by shares.
In this framework of Smart contracts, value scoring of shares can be credibly quantified.
Now we came to file a patent application for integrated machine learning and blockchain platform for valuation of the business and its scoring management.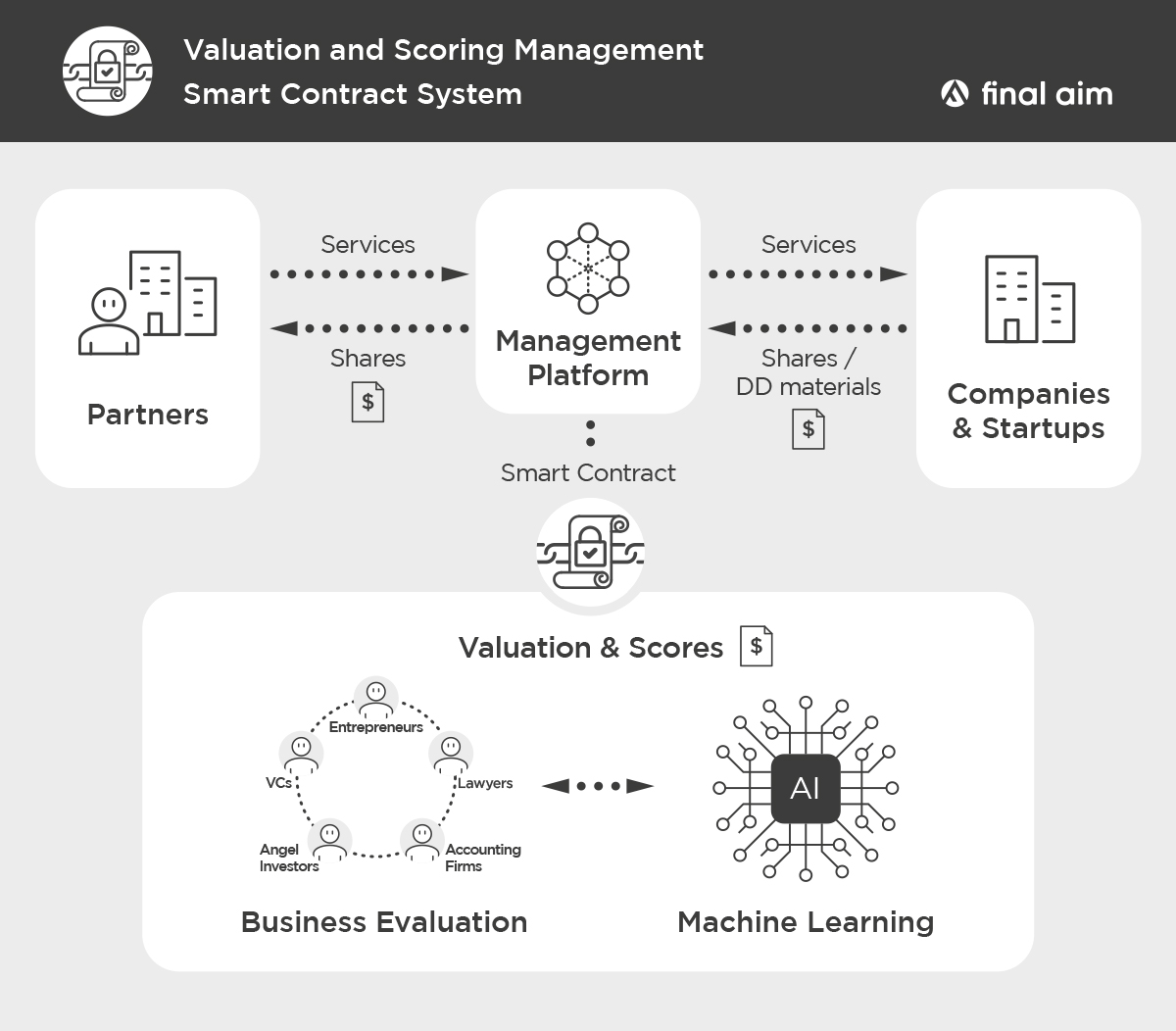 Platform for Valuation and Scoring Management by Smart Contracts
Following to our first patent for intellectual property management system applied in March 2019 (No. 2020-34812), this patent is the second for Final Aim to enhance our further challenges.
Final Aim prioritize 3 categories in our zero-to-one support; intellectual properties, equity financing and designing, and we take stepwise approach in patent acquisition.
Our first patent is Smart contract system for intellectual property management to secure design rights in owning assets.
https://final-aim.com/final-aim-filed-patent-for-intellectual-property-management-system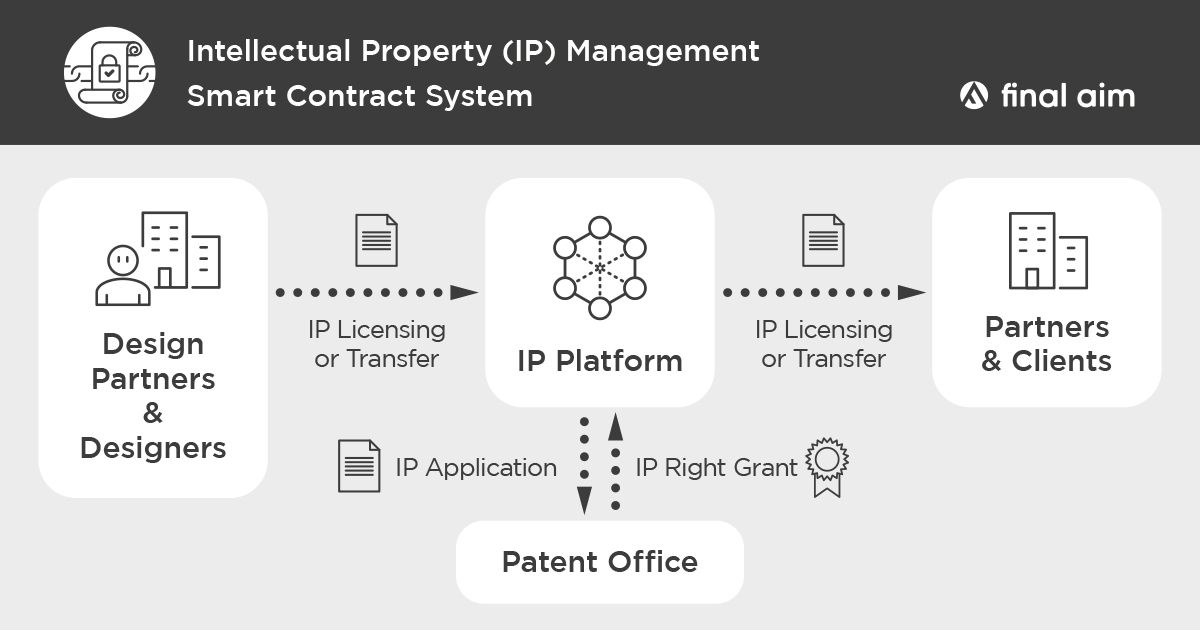 Intellectual Property Management Platform by Smart Contract System
Our second patent application in blockchain with machine learning is based on equity financing and business valuation for settlements by shares.
Final Aim encourage this new platform in Smart contract framework with business value management in addition to online intellectual assets management to enhance our zero-to-one support.
With this patent, we continue our efforts in developing and offering new services globally and creating new categories of business with design and technology for zero-to-one challenges.
---
[What is Smart Contract?]
A smart contract is a computer protocol intended to digitally facilitate, verify, or enforce the negotiation or performance of a contract. Smart contracts allow the performance of credible transactions without third parties.
These transactions are trackable and irreversible. Proponents of smart contracts claim that many kinds of contractual clauses may be made partially or fully self-executing, self-enforcing, or both.
The aim of smart contracts is to provide security that is superior to traditional contract law and to reduce other transaction costs associated with contracting. Various cryptocurrencies have implemented types of smart contracts.
Being a part of blockchain technology, a Smart contract is now being widely tested in POC (Proof of Concept) projects, especially in managing contracts and documents.
Its market size is 67 trillion yen (reference: Government Chief Information Officers' Portal, Japan, 2016.5.20).
[What is Blockchain?]
A blockchain, originally block chain, is a growing list of records, called blocks, that are linked using cryptography.
Each block contains a cryptographic hash of the previous block, a timestamp, and transaction data. By design, a blockchain is resistant to modification of the data.
It is "an open, distributed ledger that can record transactions between two parties efficiently and in a verifiable and permanent way".
For use as a distributed ledger, a blockchain is typically managed by a peer-to-peer network collectively adhering to a protocol for inter-node communication and validating new blocks.
Once recorded, the data in any given block cannot be altered retroactively without alteration of all subsequent blocks, which requires consensus of the network majority.
---
Masafumi Asakura, Co-founder and Chief Executive Officer of Final Aim, Inc.
Starting his career in corporate financing for venture company at Mizuho Bank, Ltd.,. Asakura engaged in global planning department in Recruit Career Co., Ltd., and after moved to Singapore for taking 2 CEO positions.
Joining machine leaning and 3D printer startup company, he operated M&A as a COO to become listed with 1st section of Tokyo Stock Exchange. His professional experiences vary in Head of Product Manager, Executive Officer, Business Planning Executive Officer and International Business Development Executive Officer.
Currently Asakura engages in supporting startups and entrepreneurs as an angel investor and advisor.
Yasuhide Yokoi, Co-founder and Chief Design Officer of Final Aim, Inc.
Born in Japan and raised in Australia. After graduating from Tama Art University, and finishing Samsung Design Membership, Yokoi worked for product design department at Nikon Corporation, and then became a startup member of a machine leaning and 3D printer company.
Currently engages in design and hardware development support for startups and open innovation projects for large corporations.
His support varies in creating new business, service and product designing.
Received awards are iF, reddot, GOOD DESIGN AWARD and more.
About Final Aim, Inc.
Company Name: Final Aim, Inc.
Location: Bunkyo-ku, Tokyo
Business Description: Zero-to-one support with design and technology
URL: https://final-aim.com
Founders: Masafumi Asakura, Chief Executive Officer  
      Yasuhide Yokoi, Chief Design Officer
Partners: OTSAW, Yasunli
Contact E-mail: m-asakura@final-aim.com