The Leading Web3 Startup – Final Aim Covered by "Key Players," Run by The Japanese Top Angel Investor, Hidetoshi Takano
2022.04.14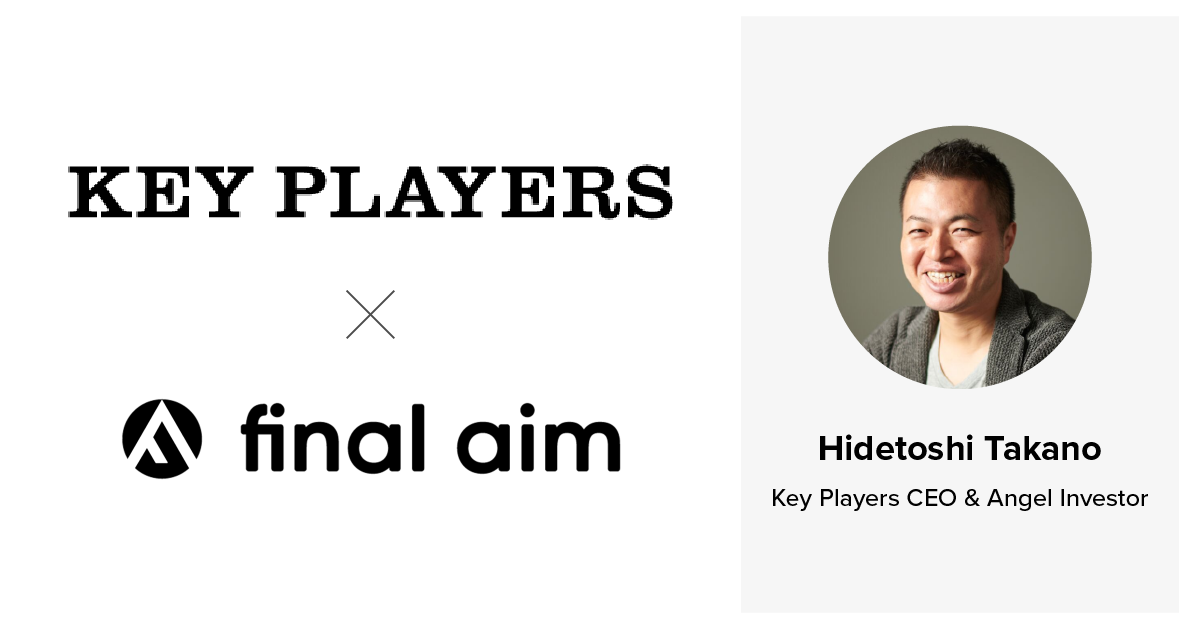 Tokyo, Japan, April 14th, 2022 – Final Aim, Inc. (Bunkyo-ku, Tokyo, CEO Masafumi Asakura, and CDO Yasuhide Yokoi) is pleased to announce that the company was featured in "Key Players," run by one of the Japanese top angel investors, Hidetoshi Takano.
The article introduced Japanese startups in the Web3 industry and featured Final Aim as one of the leading companies in Japan.
The article can be read from here (Jp only):
https://keyplayers.jp/archives/28064/#Final_Aim
English Translation of the Article
---
Final Aim is a startup that builds Web3 technologies for industrial design.
The two co-founders, the Chief Executive Officer, Masafumi Asakura, and the Chief Design Officer, Yasuhide Yokoi, are former members of the machine learning and 3D printing startup that was acquired by a Tokyo Stock Exchange listed company.
They are currently working in the digital manufacturing domain solving issues such as authenticity and ownership of the industrial design. A Web3 platform, "Final Chain" supports design data and 3D printing data management by utilizing IPFS and blockchain technology.
They have collaborated with Autodesk, a global 3D CAD software maker from the US, and with Ultimaker, a global leader in the professional 3D printing industry from the Netherlands. They also run joint research with Sony Design Consulting, which indicates its high technical quality. Since its establishment in 2019, the company has been working on the blockchain. The company has also filed for three patents for its technology.
---
About Hidetoshi Takano
Hidetoshi Takano, formerly from Intelligence, is the CEO of KEY PLAYERS. He has angel invested in over 55 companies and 5 companies have gone public including SHIKIGAKU and Slogan. Out of them, he served as a board member in 2 startups: CrowdWorks and Medley. He has supported 147 companies to be listed on the stock exchange. His talent ranges widely from setting up a business as a shareholder of a Bangladesh real estate company, to a commercial bank, and to a bar in Shibuya.
Twitter: https://twitter.com/keyplayers
Website: https://keyplayers.jp/archives/5482/
LinkedIn: https://linkedin.com/in/hidetoshitakano/
YouTube: https://youtube.com/channel/UCTecQiUKBbEZixOj6OPiSMQ
Investment list: https://keyplayers.jp/archives/6965/
About Final Aim
Company Name: Final Aim, Inc.
Location: Bunkyo-ku, Tokyo, Japan
Founders: Masafumi Asakura, Chief Executive Officer / Yasuhide Yokoi, Chief Design Officer
Business Description: Zero-to-one support with design and technology
Website: https://final-aim.com
Contact: contact@final-aim.com