Final Aim Raises Angel Investment from James Prenton, a Seasoned International Business Lawyer, and Announces his Appointment as a Strategic Advisor – Delaware, US
2023.08.30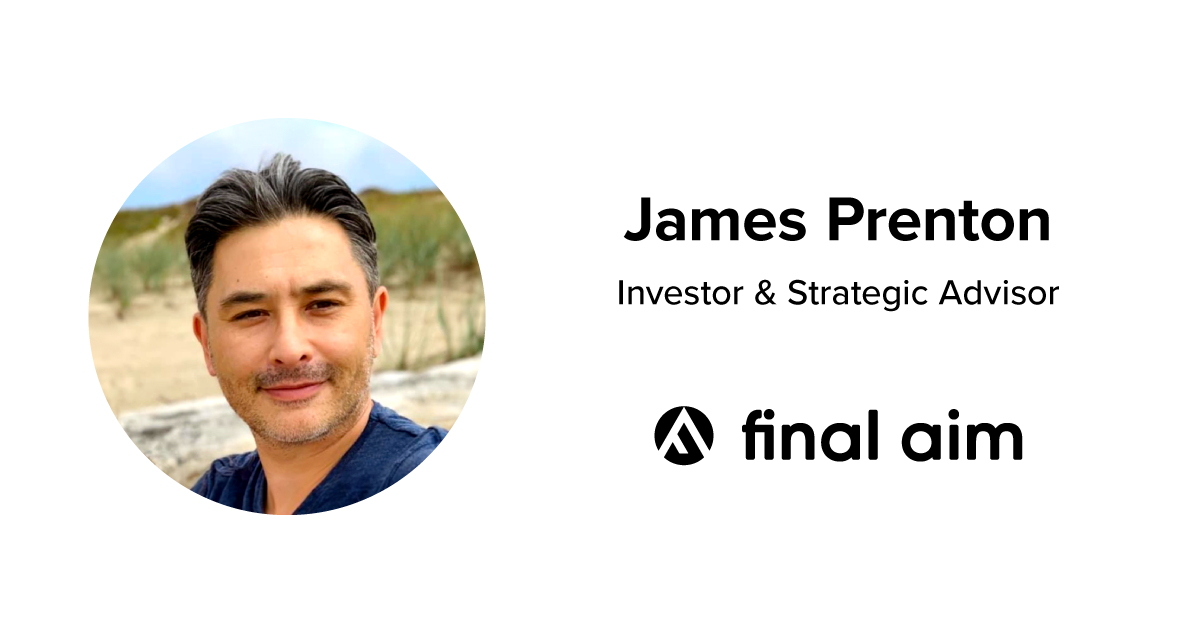 Delaware, US, August 30th, 2023 – Final Aim, Inc., the leading smart contracts platform for post-signing contract management in design and manufacturing, is proud to announce the company has raised an angel investment from James Prenton, a seasoned international business lawyer and co-founding partner at InterFocus Law, LLP. The company has also announced the appointment of James as Final Aim's Strategic Advisor. Based on his unique qualifications, James will advise on matters relating to the company's product development and strategic plans.
Based in San Francisco, James Prenton has a 25-year legal career representing domestic and international clients, including VCs, CVCs, digital entertainment and content providers, and others in the AI, deep/machine learning, Web 3.0/blockchain, manufacturers, construction, and industrial design. James is a former corporate partner in the Silicon Valley office of global law firm K&L Gates LLP. Fluent in Japanese and having lived in Japan for 18+ years, he has extensive experience assisting Japanese clients in navigating the U.S. and APAC markets.
LinkedIn: https://www.linkedin.com/in/jamesprenton/
With James' angel investment, Final Aim will further accelerate our business development and blockchain technology adoption in the design and manufacturing industries worldwide. Moreover, with his proven track record as an advisor to investors and startups alike, we are honored to welcome James as a Strategic Advisor and look forward to benefiting from his contributions.
"I am delighted to be part of the growth journey of the exemplary team at Final Aim. The angel investor and strategic advisor roles provide a rare opportunity to help solve significant workflow issues in the industrial design and manufacturing space by leveraging latest Web 3.0/blockchain technologies. I look forward to collaborating with Masa and Yasu as they pursue and implement their strategic vision," commented James.
Masafumi Asakura, Co-Founder and CEO of Final Aim, commented on the appointment, "We are very pleased to have James, who has extensive experience as a lawyer in the U.S. and Japan, join us as an angel investor. We are also very encouraged to have him on board as a Strategic Advisor, as he has deep knowledge of technology, M&A, intellectual property, and fundraising."
Yasuhide Yokoi, Co-Founder and CDO of Final Aim, also commented, "We are excited to welcome James to Final Aim as an Angel Investor and Strategic Advisor. The addition of James affirms our commitment to grow the business and increase value to our customers and partners in the design and manufacturing industries worldwide."
About Final Aim
Final Aim has been driving the global adoption of blockchain and smart contracts technologies in industrial design and manufacturing. In November 2021, the company announced the beta version of its blockchain platform, "Final Chain."
In April 2022, the company established its headquarters in the United States. In September of the same year, Final Aim was accepted into "Berkeley SkyDeck," a world-renowned Silicon Valley startup accelerator. In February 2023, it was also chosen as "The Most Likely to Become the Next Unicorn" within the Berkely SkyDeck program. In June 2023, the company won the "Japan-US Innovation Awards – Innovation Showcase," a co-program by the Japan Society of Northern California and the Stanford University US-Asia Technology Management Center.
Company Name: Final Aim, Inc.
Location: Headquarters – Delaware, US / Subsidiary – Tokyo, Japan
Founders: Masafumi Asakura, Chief Executive Officer / Yasuhide Yokoi, Chief Design Officer
Business Description: Drive the adoption of blockchain and smart contracts technologies for design and manufacturing.
Website: https://final-aim.com
Contact: contact@final-aim.com